I have been writing a report on a concept that I believe is the only way to succeed online for the long-term.
When web properties like Google and Facebook first started, they didn't depend on paid traffic or SEO to grow their traffic and followers.
They created something compelling enough that attracted followers to their tribe. These same followers spread the message of their services and they eventually become the chief of their own tribe.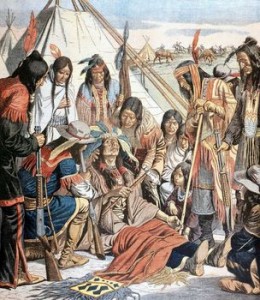 And when you are the head honcho, generating traffic and making money online because much easier. 😉
Now the biggest complaint I get from people who are trying to generate money online is that they don't have money for paid traffic or time for search engine optimization.
With paid traffic, there is no guarantee that you will make any money and you usually have to spend quite a bit in order gather data and determine what is converting and what is not.
With search engine optimization, there is no guarantee that the hundreds of hours you spend on optimizing your web site will get you a decent ranking and any traffic.
So then what?
If you follow my philosophy of tribe marketing, then these two methods of traffic become secondary issues because your followers grow your traffic.
So how do I plan on developing a following for a particular market without paid or SEO traffic?
I just started running an experiment with a brand new site that appeals to a very general audience.
I believe the content is compelling enough that it will be spread like a virus, but only if the right tools are placed to allow followers to do this.
Now putting everything into place requires a lot of time, which is something that most of us simply don't have.
I am a heavy user of outsourcing and I find that you can find a lot of great talent on Fiverr.com. If you have never heard of Fiverr, then you need to download my free report that explains how it works.
I plan on using the best talent on Fiverr to quickly and cheaply help build my tribe to a point that I can monetize from this following.  There are many elements involved to make tribe marketing successful such as retweeting, facebook sharing, email collection, etc.  If you think about it, there are many tools at our disposal that makes it easy for our followers to grow our tribe.
I use an amazing tool called Gigscraper to find the best talent on Fiverr within seconds. A tool like this will save you time and money and I think the price is way to cheap for it.
Anyhow I have just started the experiment and will share with you my results over the next few weeks. The goal is to generate a ton of traffic without paid or SEO traffic. Success or fail, I will let you know how it works out!
Please leave your thoughts below.
Gauher Chaudhry