Testing, validating and iterating display ads can be tedious — so much so that it's easy to keep pushing that project deeper into your To Do pile.
Don't let procrastination get the best of you, or your business.
Here are 9 actions you can take this very moment to optimize the performance of your ads.
Take these steps one at a time. I'll list out what specifically you need to do so that you can work from a road map, not waste time with vague advice.
Know What Ad Sizes Work Best and Where to Put Them
Let's start off with something deceptively obvious.
Not all ad sizes are created equal.
In fact, the medium rectangle (300×250) and the leaderboard (728×90) together make up for nearly a third of all ad impressions, according to Stefan Maescher.
These ad sizes are the ones most likely to earn you a return on your ad spend.
Cristina Calderin, now a manager over at Thought Catalog, told a brief story at Study Break Media about how she helped a publisher redesign a site for optimized ad revenue.
The biggest changes: They ditched the leaderboards (most of which were below the fold) and replaced them with above-the-fold medium rectangles.
"Now the site only has 2 units per page," she wrote. "Again, I must restate, they did not experience a significant increase in traffic, yet ad revenue nearly doubled."
What you can do:
Take inventory of what ads you're buying and where they are placed.
Try upgrading to above-the-fold medium rectangles or leaderboards one at a time.
Calculate whether the difference — if there is one — justifies the return on investment.
Understand What Colors Mean to People
I wish there were a better way to put this, but color selection is often a red herring when it comes to conversion optimization.
Countless words have been written about how yellow communicates feelings of warmth and happiness, and blue connotes trustworthiness.
Gregory Ciotti at Help Scout debunks most of that supposed insight.
"The truth of the matter is that color is too dependent on personal experiences to be universally translated to specific feelings," he says.
Instead, he advises marketers to consider colors only in relation to the message or the offer.
For instance, green naturally would complement an ad for organic seed packets because it is an easy leap for most of us to connect that color with growing plants. Blue, on the other hand, might create some cognitive dissonance.
At the same time, green might be such an obvious choice that your competitors have all gone with it. In that case, going for a deeper green or even a brown might differentiate your ad.
"When it comes to picking the 'right' color, research has found that predicting consumer reaction to color appropriateness in relation to the product is far more important than the individual color itself," Gregory says.
What you can do:
Test a different dominant color for an individual ad to see whether it makes a difference.
Think about a color that resonates with your message, but don't overthink it.
Make sure your call to action still stands out. In all likelihood, you'll need to adjust your secondary color to harmonize with your dominant color. Here is a handy color reference guide if you plan to do the design work yourself.
Make Your Call to Action Short and Direct
SwellPath senior account manager Heather Benson wrote a piece in 2014 on display ad best practices, and she emphasized a couple of times how important it is for marketers optimizing for click-throughs to make their CTAs stand out and demand action.
"Your ad must have a clear CTA," she wrote. "CTAs are typically in the form of a button to make it standout from the background color. If you don't have your CTA in a button format, make sure it's a different color to help it draw the eye of your audience. Keep the CTA short and sweet and be direct, for example 'Shop Now,' 'Buy Now,' 'Sign Up,' or 'Learn More.'"
Of course, each of those CTAs encourages the viewer to take a different action.
That action must align with whatever is on the other side of the click (i.e. on the landing page), but how you phrase that could be a differentiating factor.
"Sign Up" and "Get Your Free Ebook" could deliver users to the same page, but one might outperform the other.
I think you know what this means.
What you can do:
Split test CTAs that are remarkably different.
Narrow in and split test top-performing CTAs with one that is subtly different.
Give Your Ad an Obvious Frame
The content of your ad must either fill out its allotted space, or it must have a frame clearly marking its boundaries.
"People's eyes are naturally drawn to a subject inside a frame," the 99designs team writes. We will return to 99designs in just a moment, by the way.
"If your ad is white, it's a common practice to put a 1 pixel gray border around the ad. If it's not white, you can still use subtle borders … which make it pop just a little more."
What you can do:
Make sure your ad has a full background that stands out from its surroundings.
If your ad has a white background, add a thin gray border around it.
Maintain the Scent from Ad to Landing Page
If you optimize for click-throughs, the landing page on the other side of the click needs to match the scent the ad lays down, conversion expert Peep Laja recommends.
"One of the best ways to improve landing page conversions is to create and maintain scent," he writes. "Make pre-click advertisements and post-click messages look and feel the same."
Let's take a simple example of how scent works.
Here is a 300×250 ad the University of Denver's Daniels College of Business is running at the time of writing on Google's ad network: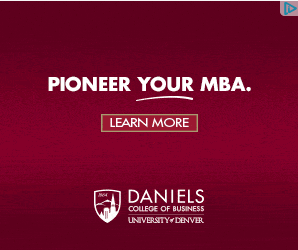 Here is the landing page where this ad takes you: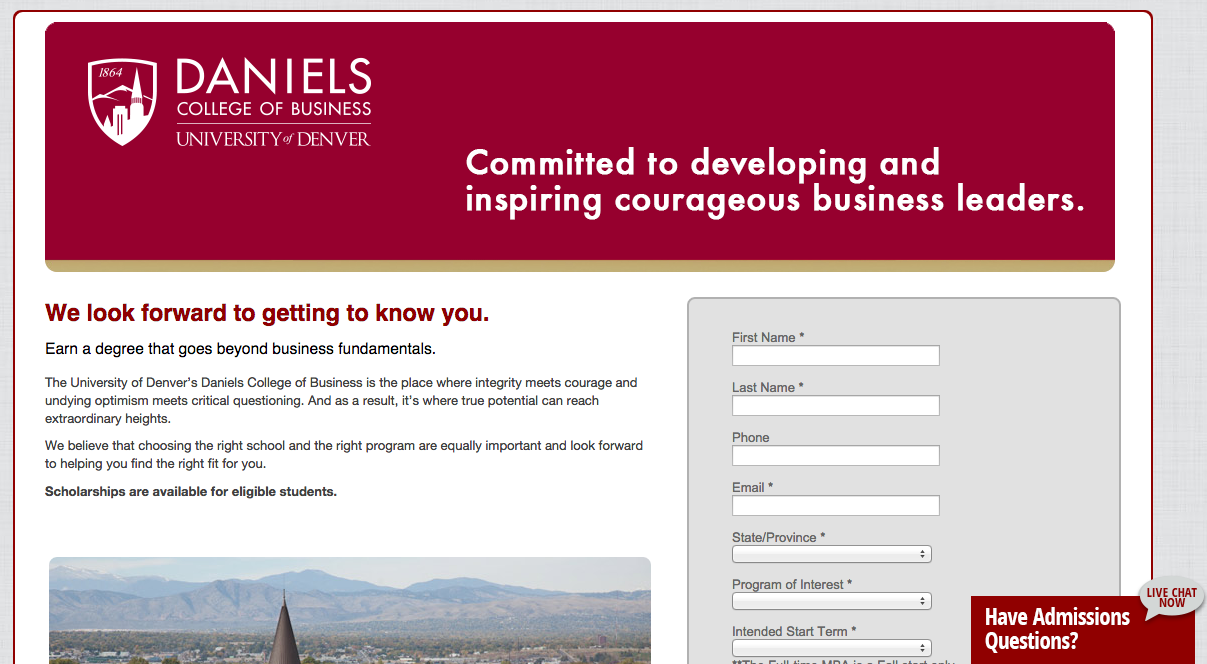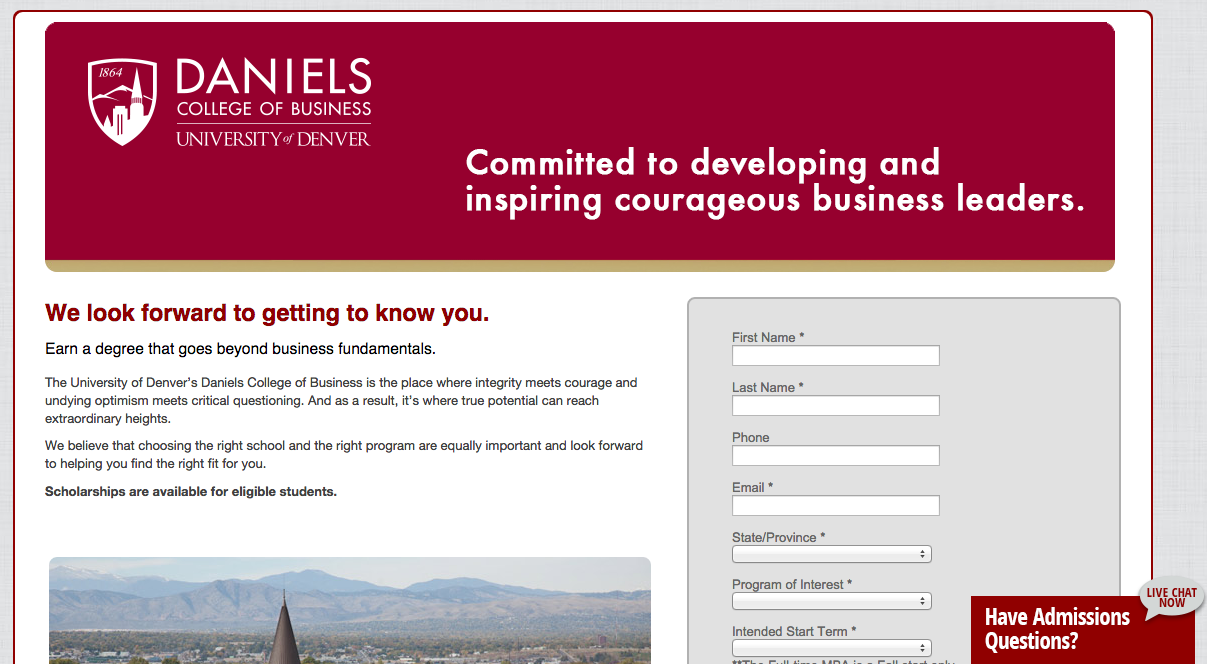 Everything lines up in a way that is expected and causes no friction:
The color scheme is the same.
The same logo appears right at the top of the landing page.
Even the pioneer metaphor rolls over to the landing page with the headline about "courageous business leaders" and a photo of the school with the Front Range in the background.
What you can do:
Make sure your ad copy matches your landing page copy, Peep advises. "The closer, the better. Verbatim would be best."
Make sure the ad's message aligns with the landing page's central message, he says. The University of Denver example stretches this a tiny bit by talking about "getting to know you" in that first subhead.
Finally, make sure the designs align, Peep says, as the examples above clearly do.
Crowdsource a Variety of Ad Designs with 99Designs
If you are starting a campaign from scratch, it's daunting to imagine all the time you could spend finalizing a design, testing and iterating.
Instead, just use 99Designs to crowdsource a great deal of that work for you.
It costs a few hundred dollars — which for some of you might be a bargain considering time spent — and delivers potentially dozens of design options within a week.
There are two tricks with 99Designs that can add considerable value to this process:
As Tom Demers at WordStream points out, you can say upfront in your contest that you will choose two winners. When you have two ads you like, put them head-to-head in a split test. You'll get a deal on buying two ads, and you'll have empirical data about how they perform.
After the contest is run, there will be design submissions left over that are more or less worthless to the designers. Offer to scoop those up at a discounted price, then continue testing all the variations you buy.
See What Your Competitors Are Doing
There are several free and paid tools that essentially allow you to spy on your competition to see where they advertise and what idea they are testing:
Integrate Retargeting Into Your Campaign
Retargeting opens up the power and scope of display advertising to leads who are a little further along in your sales funnel.
They know your company, they know your offer, yet they've failed to become customers for one reason or another.
The potential exists to make good money off of these leads — Laura Sima-Sirban at Bannersnack reports retargeting campaigns show an average ROI of $10 for every $1 in ad spending.
Google offers retargeting within AdWords, and here are three more options if you are advertising outside of that platform:
ReTargeter lets you retarget users on display ad networks, social ad networks such as Facebook, and even on CRMs. Base price: $500 / month for the DIY product
AdRoll says its platform gives you access to 98% of the surface internet, meaning you can reach out via Yahoo! ads, Facebook, or most of the smaller ad networks. Base price: About $2,000 / month
Perfect Audience has perhaps the most attractive pricing because it has no minimum spend nor any setup fees. Instead, as with AdWords, you just set a budget and pay as you spend. Base price: None
Maybe Just Ignore Most Advice About Best Practices
Finally, a little tip on keeping things in perspective: Sometimes advice is good, and sometimes it's worth ignoring.
Miami-based production agency Digitaland touched on this in a recent post about banner ad best practices (and why you should ignore them).
The team's second and third points — questioning the importance of color and knowing when to ramp up the urgency in a CTA — I've already touched on.
Two other points from that piece worth noting:
Photography might not be the best way to go for your ad's image. "In fact the wrong photo can sometimes do much more harm to a campaign than good," the team writes. "This is rich media, after all, and animation is a good alternative to photography."
Click-through rates don't necessarily equal conversions. Instead, consider all the harder-to-measure benefits of a good ad such as increased brand recognition or product awareness.
I am interested to hear your thoughts on this.
Gauher Chaudhry