This past weekend I held a live traffic workshop here in Toronto to go over the basics of creating profitable pay-per-click and pay-per-view campaigns.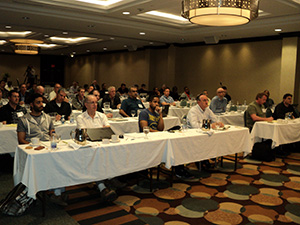 It was a great event and also it was nice to put names and faces together with all of the attendees who were past or new customers.
I presented for the entire two days and laid it all out on building a profitable marketing funnel and driving mass traffic.  This was crucial because there is no such thing as a "shortage" of traffic online.  Once you get a marketing funnel optimized and profitable, it is just a matter of scaling your campaign by going out and buying as much targeted traffic as possible.
I also covered buying traffic on YouTube, which is an untapped goldmine along with encouraging all the attendees to think mobile first.
YouTube is the second largest search engine online and currently 80% of their ad inventory remains unsold. This represents a huge opportunity for advertisers to get extremely cheap video traffic from YouTube.  The best part is that if you run "in-stream" ads on YouTube, you don't even have to pay if the user doesn't watch your entire ad or past 30 seconds (whichever comes first). This is basically free advertising and branding for anyone's business.
Mobile is where majority of the traffic will come from in the near future and already the majority Facebook users access their accounts on mobile devices rather than their desktop.  I encouraged attendees to build their marketing funnels so that they are both desktop and mobile optimized. In fact, I took it a step further and suggested that they should create two separate marketing funnels for desktop and mobile.  This is because what works on desktop might not necessarily work on mobile. It all comes down to testing.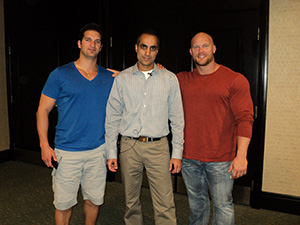 There were also some big names in the audience such Vince Del Monte (fitness guru) and Ben Pakulski (Mr. Olympia finalist) who came to learn about driving mass traffic to their core marketing funnels.
I briefly covered native advertising and showed everyone how they can easily run ads to their competitors' followers.  That really got the wheels turning in a lot of attendees heads with the possibilities.  Native advertising is little bit more complicated than traditional pay per click traffic, but with some creativity, it can bring in good results.
The vast majority of my time was showing the attendees how to set up their pay per click and pay per view campaigns correctly.  If an advertiser gets this wrong from the start, they end up wasting time and money.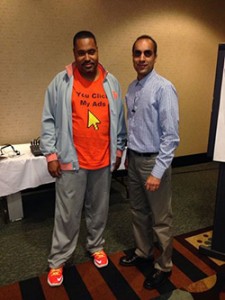 Some big names in paid traffic also made the trek up to Canada for the event including my good buddy Greg Davis (Mr. $50K A Day), who came to learn just a few nuggets to add more profits to his sprawling online empire.
One of the most valuable parts of the workshop was when I showed attendees how to reverse engineer some of the most profitable million dollar funnels online and apply the same system and process to any product in any niche.  I actually took them through a live example of a multi-million dollar funnels that starts with giving away something that only costs about $0.35 to produce.
The biggest takeaway in my opinion and the real secret to success online is to offer something of immense value.  When you find a product or service like that, the marketing takes care of itself.
If you had been at the workshop, what are some of the questions you would have asked?
Cheers
Gauher Chaudhry