As I wrote in a previous post, one of the best steps you can take to ensure your paid traffic converts is to study and analyze the marketing funnels of competitors.
Their ads, their landing pages, the copy in their emails — all of these represent data points you can use to optimize your own conversions and make money in that market.
I'll take that advice a step further today and delve into the sales funnels of various companies across multiple industries.
This will uncover some ideas you might not have considered but could be applied directly to your own funnels.
Of course, this exercise is no substitute for a full analysis of your own competitors — it's up to you to find what messages resonate in your own market.
Still, it always helps to see what other successful businesses are doing. Here are five great ideas I found by analyzing the sales funnels of successful companies.
Kaplan: Segmenting Informational, Navigational and Transactional Queries on Google's SERPs Page
For-profit school Kaplan University is in one of the most competitive and profitable evergreen markets out there: Education. Having a tight sales funnel is crucial for Kaplan and its primary competitors.
Because the school has sufficient name recognition, it can get creative with its organic traffic.
If you search "Kaplan University" by name, the school owns the first organic result and the first paid result in Google: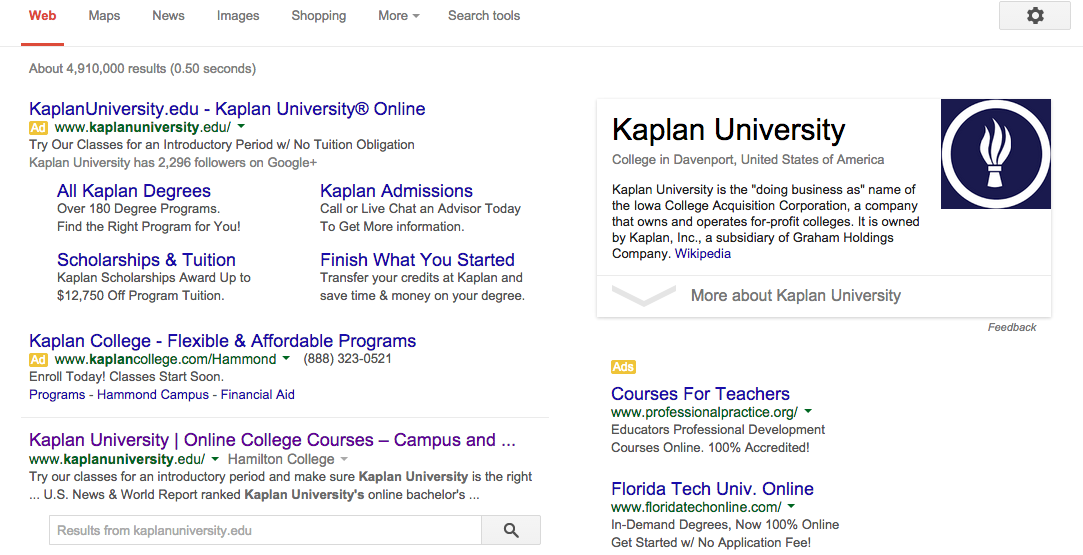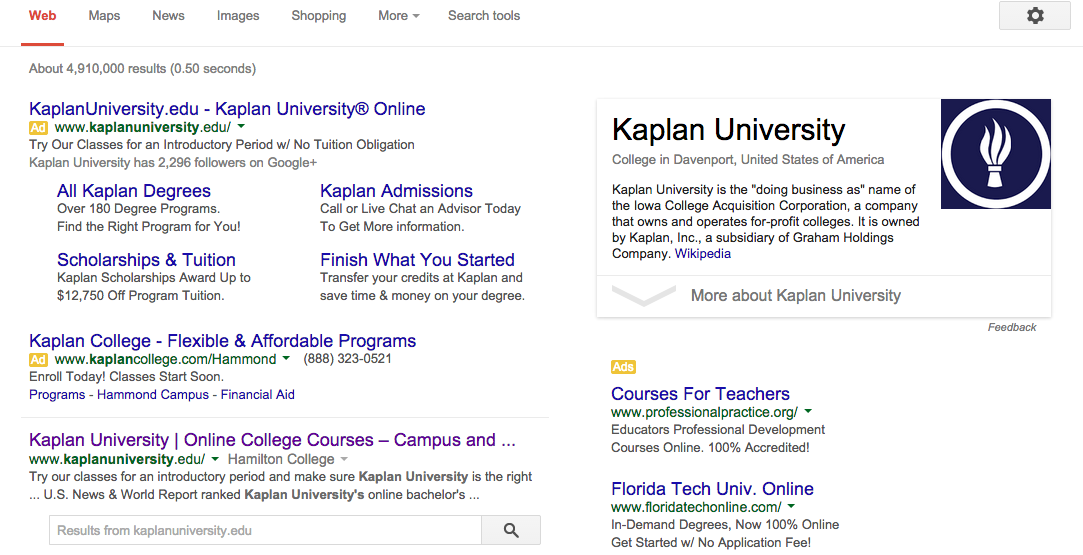 The URLs look the same, but the landing pages are different. The paid results actually deliver users straight to a landing page with a three-step opt-in form designed to get them in touch with a representative.
The organic results take users to Kaplan's home page and the site's main subpages.
The difference gets right at the heart of user intent, or what a user fundamentally wants when typing in a keyword.
Most marketers break user intent into three categories:
Informational ("Tell me more about Kaplan")
Navigational ("I want to go to Kaplan's homepage")
Transactional ("I want to sign up for classes")
Searching for "Kaplan University" could indicate any of those three intents; there is no way of knowing. So, what Kaplan had to do for this keyword was target each intent.
The strength of the school's brand and its other SEO work ensures that it ranks No. 1 for its own name and at the top of the Google SERPs for relevant keywords such as "online colleges."
That leaves room for experimentation within the crowded set of paid results, where Kaplan can speak directly to users with a transactional intent behind their searches.
Notice the direct appeals in the paid search results' copy: "Try our classes," "Find the program for you," "Transfer your credits." That action orientation speaks to users with transactional intent.
Then, those users would ideally click through to what is a pretty simple landing page: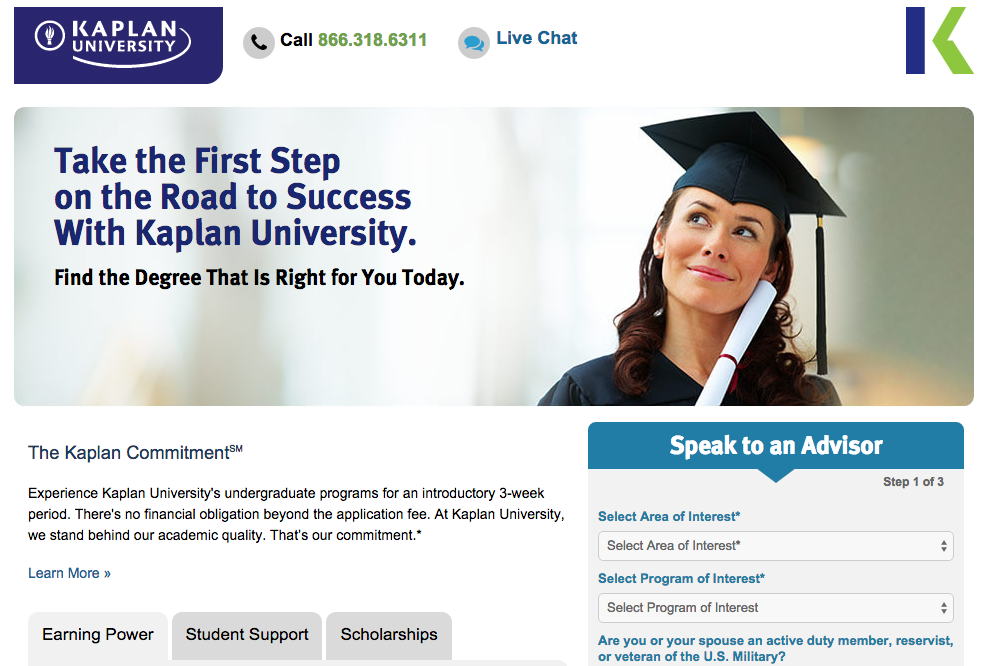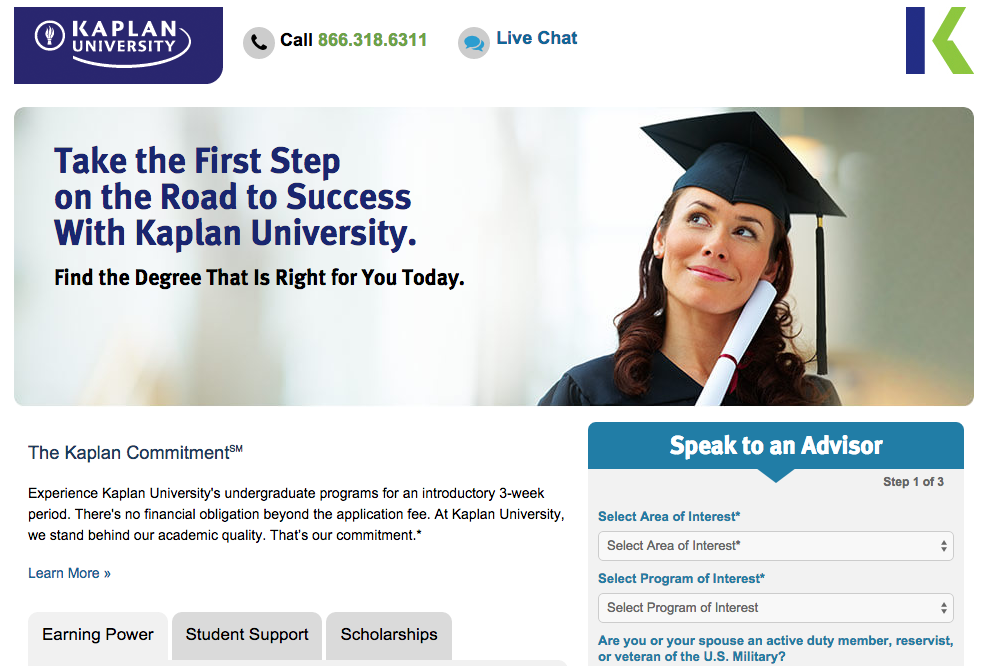 The copy reminds visitors of the three-week trial period — as the ad copy featured — and the only actions a user can really take are to fill out the form, get on the phone, or bounce. I would be curious to know how well this converts.
The takeaway: If you have built up brand recognition and people search for your business by name, consider experimenting with segmented user intentions right on Google's SERPs page.
Let the "Tell Me More" users move into the top of your funnel via the organic results, but speak to your warmer leads with actionable copy and an optimized landing page in a paid search result.
Sendy's Unsubscribe Page
Sendy's self-hosted newsletter software creates a competitive offer for price-conscious customers — the company is very upfront about its service being 100x cheaper than competitors such as MailChimp or Campaign Monitor.
This positioning also lets Sendy get away with a bit more cheekiness than others might.
Case in point: When you unsubscribe from a newsletter sent out via Sendy, the publisher can set up the following unsubscribe page: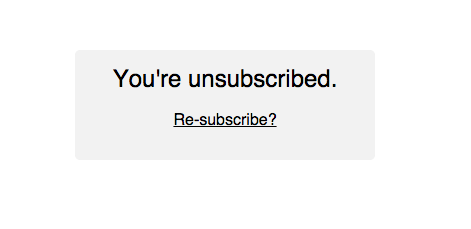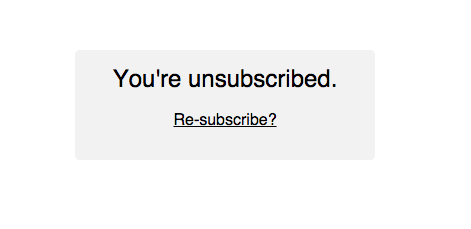 The first time I saw this, I actually laughed.
That CTA is so ridiculous that it doesn't even feel pushy.
And that's kind of the point, isn't it? Most of us would be left with one of two options here: Either re-subscribe, or get a nice laugh out of the otherwise dull task of unsubscribing from a newsletter you don't read.
That second outcome still provides a benefit to the sender.
If your last experience with a brand's sales funnel is humor, you're likely to leave that relationship on a high note, and perhaps with an elevated perception of the sender.
Later, if you circle back into that company's orbit, you're going to bring that elevated brand perception with you into that relationship.
Sendy has set its customers up with a nice win-win here.
The takeaway: Swipe this idea for your own email unsubscribes if (and only if) you feel your brand can get away with this kind of playfulness.
Uber's Promotions to Existing Customers
On-demand ride service Uber gets a lot of flak.
Taxi drivers have held organized protests against the company.
It's been shut out of some markets.
It's got doubters out there who simply wish to "remain unconverted."
But none of that filters into the company's touch points with existing customers. In fact, when you look at the promotional email local Uber teams sent out to customers the first weekend of May, everything is literally flowers and sunshine.
Here is the CTA from the promo for Chicago customers: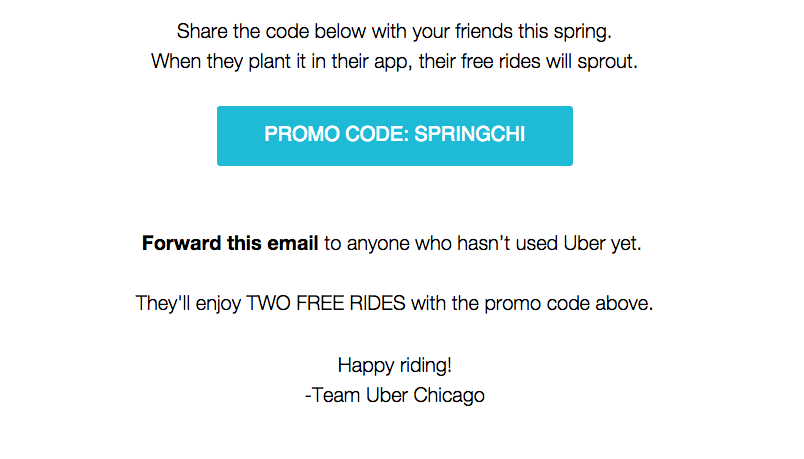 This email offer is deceptively enticing. At first blush, there is no real benefit to the customer — they don't get free rides themselves for sharing the code.
But then you return to Uber's external realities: How many of those customers have "I prefer to remain unconverted" friends who insist on hailing a taxi?
That friend gets a promo code, for sure.
For the less cynical Uber evangelists, the metaphor of planting flowers and watching them bloom might resonate with a desire to simply help other people.
Those Chicago customers were enjoying a sunny 72-degree day when that email went out. It's easy to tap into someone's philanthropic nature on such a nice day.
The takeaway: The bottom of the sales funnel isn't the moment the prospect converts to a customer. The funnel still has a wide base upon which you should build up trust and loyalty among existing customers.
Reach out to them, and appeal to their better natures. If you're lucky enough to have a core of evangelist customers, give them a reason to evangelize.
AdRoll Gets Incredibly Meta With a Retargeting Campaign
Retargeting platform AdRoll blogged in 2013 about its own success with a Facebook retargeting campaign that saw a 45% increase in conversions and a lot of positive press for the company.
"For many prospective advertisers, the most important thing for them to know is that our platform works for companies just like theirs," AdRoll's Tom Pitt wrote.
"Because we work with many tremendously innovative companies, we decided to test a retargeting campaign that highlighted some of those companies and their experience using our product."
The first ads the company used in this retargeting campaign featured testimonials, which converted at a pretty low rate but brought in high-quality traffic when they did convert.
Shortly thereafter, the company tried an experimental ad on Facebook's network. Here is one of its promoted posts: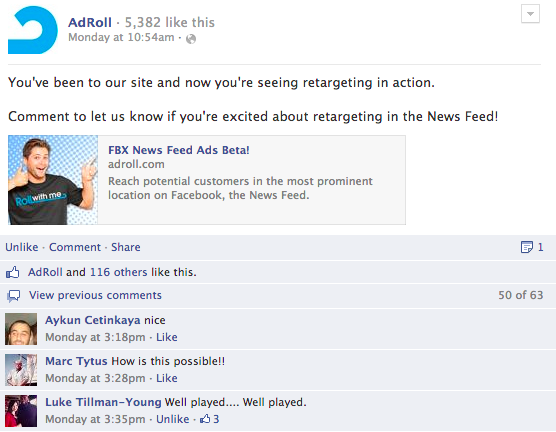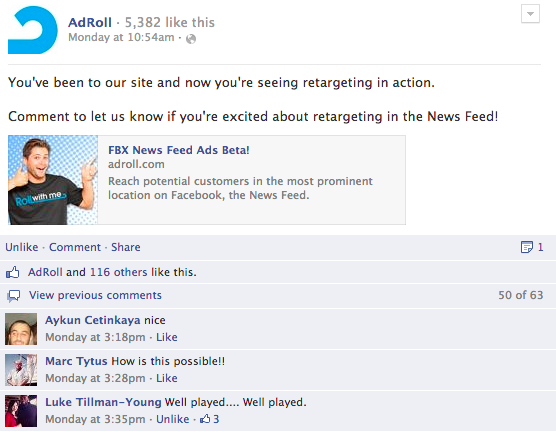 The sidebar ads themselves featured a headline that just read "We're Retargeting You."
Such great stuff here. People began screenshotting the ads and Tweeting them out to AdRoll just to say, basically, "Thanks for the laugh."
More importantly, Pitt said those ads converted 45% better than the control, and soon Facebook retargeting campaigns emerged as a key driver of AdRoll traffic.
The takeaway: Don't copy this campaign wholesale. People will recognize it.
But do feel free to knock down that fourth wall if you have a savvy audience that would appreciate being in on the joke. If done well, you can get your message out and build up some goodwill in the process.
Retargeting, Take 2: Caviar
Caviar, a mobile service that lets you order delivery food from nearby restaurants, came up in my research for this post, but nothing in particular stood out about the company's sales funnel.
At least not initially.
Two days later, I was reading some news when I saw this ad: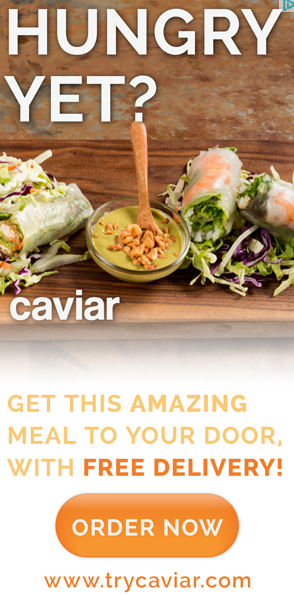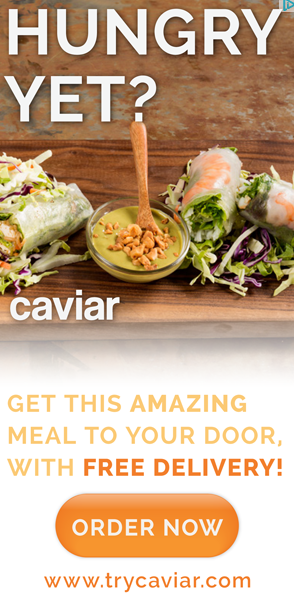 As with the AdRoll example above, this is an excellent way to be blatant about the retargeting message while keeping the message itself on point.
This also demonstrates how you don't need to be too meta or tongue-in-cheek with a clever retargeting message.
Now, if only Caviar could retarget me with an image of a specific dish I had previously clicked on.
The takeaway: Retargeting has proved so effective in recent years for the same reason as the Kaplan example earlier — it can get right at the heart of user intent.
Consider what AdRoll CMO Adam Berke told VentureBeat in December: "When you combine this hyper-valuable data set with advanced media buying technology, algorithmic bidding, dynamic creative, and reach across publishers and channels, you end up with an extremely important marketing channel that is now viewed to be as crucial as search engine marketing."
Comments?
Gauher Chaudhry