Last May, I held a media buying workshop here in Toronto and had top media buying experts present the content.  One of the speakers was a good friend and ninja marketer Greg Davis.  I gave him the task of presenting on the importance of your advertising banners when doing any type of media buying.
One of the surprising tactics that he revealed was using images of sensual lips in your ads to increase the click-thru rate (CTR) rate.  He said that in his tests, it worked almost every time and it didn't matter if the audience was men or women.
I have to admit that I was skeptical, so I put his recommendation to the test on Plenty of Fish ads.  I created a campaign for a weight loss related offer and included an image of sensual lips in one of the ads.
The results were surprising.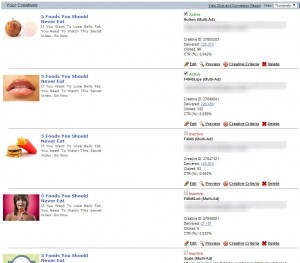 I ran multiple ads with the only change in the ad being the image.  These ads were only targeted at women who were between the ages of 40 and 45.  Test after test, the ad with the sensual lips maintained the highest click-thru rate confirming Greg's own tests.
If you click on the image on the left, it will open up to a full size graphic and you will be able to see the exact click-thru rate of each ad.  The lips ad had the highest CTR rate of 0.058%.  In some cases, this ad beat out other ads 2-to-1.  The closest ad (fast food image) only came in at 0.05%.
If you think about it, it doesn't make logical sense because lips really don't have anything to do with weight loss.  I think it is because the image of lips is eye-catching, which leads the prospect to read the ad.
Have you ever had weird results like this in your split tests?  Let me know in the comments section.
Also, I have reopened my Media Buying Sumo course, so if you haven't had a chance to join you can by clicking here.  You will get access to the entire Media Buying workshop and the video presentations of all the speakers.
Best wishes,
Gauher Chaudhry