Social media crises have been popping up all over the place. From big brands like McDonald's, Qantas and Susan G. Komen, to small, homier brands such as Boners BBQ and The Circuit Factory – no one is safe from an attack and the scariest part is that no one knows when one's about to hit.
What is a social media crisis and how will one affect your brand?
A social media crisis, like any type of crisis, happens when uncontrollable events are taking place that will have a damaging impact on your brand, your brand's reputation or your business's bottom line.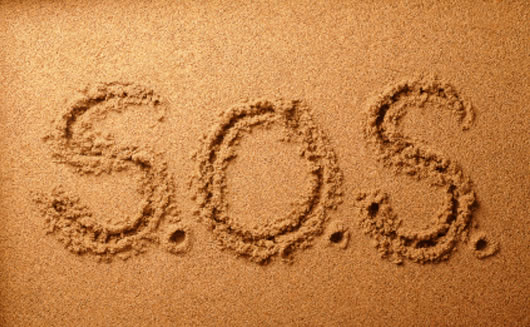 I'm not talking about a little complaint posted on your Facebook wall by an unhappy customer. I'm talking about a series of uncontrollable events. It could stem from a mistake made within the corporation (De La Fontaine), a hopeful campaign gone wrong (Chapstick, Groupon, Wotif), a botched product or service, a change in direction or policy that your customers and market disagree with (Susan G. Komen), or any other number of unfortunate situations that cause your customers, fans and prospects to take to social media voicing their discontent and sending their message into a potential viral frenzy.
How can you protect yourself?
A poorly handled crisis can ruin your brand's reputation for life, just look at Susan G. Komen. That said, the goal in a crisis is always to overcome and resolve the situation in the least amount of time – with the least amount of repercussions to your business.
So if you can't foresee a crisis, and if it can have a substantial negative impact on your business, how are you suppose to protect yourself from one?
The best way to protect yourself from, and overcome a crisis is by equipping yourself and your team with:
Understanding how to perceive a crisis and learning how to react and respond to one, gives you the unique opportunity of not just being able to recover from one, but to actually turn a social media attack into a positive opportunity for your company.
The right crisis plan will:
Allow you to regain control of the situation
Teach you how to use a crisis to reconnect and strengthen your relationship with your customers
Teach you the proper steps to responding to an attack – and how to optimize that response for maximum views and find-ability
Understand what your customers and fans expect of you during a crisis
Permit you to leverage the powerful help of your still-happy customers to come to your defense during an attack
Leverage a crisis to gain from some positive PR
Teach you how to document and analyze the events of a crisis so that you may continue to empower your brand for the long-term
So how can you learn all of these extraordinary ways of protecting your brand without it costing you a ton in both time and money?
There's one solution out there that takes you from A-Z in developing the right social media crisis plan, teaching you everything you need to know in order to come out of an attack with even more happy and loyal fans then you had going in. It's called the Social Media Crisis Academy.
What is the Social Media Crisis Academy?
The Social Media Crisis Academy is an all-inclusive online training program that takes you through each step of developing the right crisis plan for your company. This easy-to-follow training course is the only solution you need to make sure that your company is protected from a social media crisis, should one unexpectedly strike your brand.
Nobody wants to experience a fire, but we all prepare ourselves with fire drills none-the-less. The same goes for a social media crisis. Nobody ever wants to experience one, but odds are that we all will one day. The Social Media Crisis Academy makes sure that when that day comes, you're prepared and empowered to turn a crisis into a positive brand opportunity!
The right crisis plan won't take loads of your time to prepare, but it will save you from irreparable damage to your brand – and that's worth investing in!
To find out how the Social Media Crisis Academy can help you protect your brand from a social media crisis, click here!
Are you prepared for a social media crisis, should one strike your brand? Have you ever given it any thought? I'd love to hear from you, share your comments with me below!
—

Bio: Melissa Agnes is a social media crisis specialist who blogs daily about protecting your business from social media attacks. She is also the creator of the Social Media Crisis Academy, an all-inclusive online training program that takes businesses from A-Z in developing their social media crisis plan. You can connecting with Melissa on Facebook and Twitter.