One of the best methods for driving sales (especially for high-ticket items) is the use of live webinars.
Not only do they allow you to demonstrate your products or services, present your engaging content, they also help facilitate trust with your attendees.
For the longest time, marketers were using teleconferences to sell their products and services before webinars changed the game.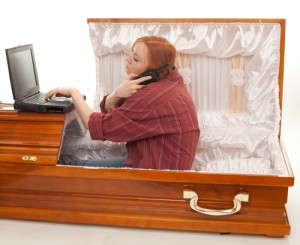 When I first started using webinars almost a decade ago, it was very easy to get registrants and webinar show up rates of close to 80% weren't uncommon.
But that was then and this now.
Things have changed dramatically and with cheap alternatives and autowebinar software scripts selling like hot-cakes, almost everyone and their grandma is running a webinar.
Your prospect only has so much time in the day and with plenty of webinars to choose from, you're just another voice shouting in the crowd for their attention.
Once you get past the struggle of getting their attention and then getting them to register, you are now left with the difficult task of getting them to actually show up.
A decent show up rate to a webinar these days is roughly 20%. If you are getting a show-up rate higher then this, you are doing great.
Does this mean that webinars are dead?
Hardly.
But the game has changed and marketers who start creating a more sophisticated webinar funnel will definitely see way more success then those who don't.
I'm referring to the:
1. Post-Webinar sequence (traffic, ads, pitch page, self-liquidating offer, post webinar emails, etc.)
2. Webinar sequence (presentation, content, story-telling and close)
3. Post-Webinar sequence (replay, follow-up emails, close emails, retargeting, etc.)
4. Automated-Webinar sequence (technology, script, etc.)
There are a lot more moving pieces to a successful webinar then there were years ago.
Your audience is more sophisticated now and by incorporating more of the crucial pieces to the entire sequence, it's still quite possible to make six-figures on a single live webinar.
What's your opinion on webinars? Over-used? Over-hyped? Too many?
Share your comments.